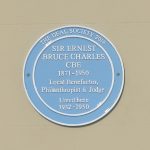 A new blue plaque has been unveiled to a great benefactor to Deal – Sir Ernest Bruce Charles CBE. The plaque is on his home, which still bears his name, Bruce House on Beach Street.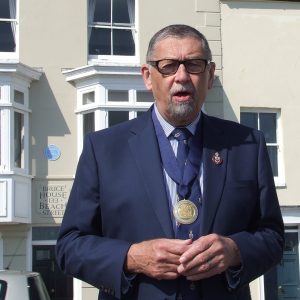 Former Chairman of The Deal Society, Alan Clarke, had planned the plaque and introduced the proceedings. Worshipful Town Mayor of Deal, Cllr Nick Tomaszewski, then officially unveiled the plaque, saying how he had moved to Bruce Close in Deal and was fascinated
to find out the history behind the person whom it was named after. He added that he was honoured to be commemorating the memory of such a great benefactor to the town.
Afterwards, historian Simon Gregory told those attending about the work of Sir Ernest and his family connection because his Grandfather was a miner at a time when they were not welcome in the town but Sir Ernest was happy to rent rooms to him at a reduced rate for such a hard working man.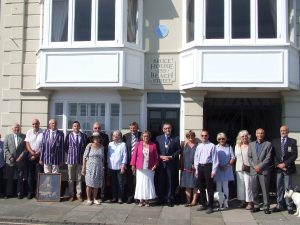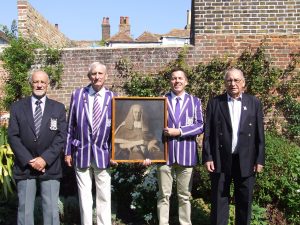 The ceremony was attended by representatives of Deal Town Football Club and Deal Walmer & Kingsdown Amateur Rowing Club, as Sir Ernest helped to set them up by buying the football ground and the rowing clubhouse. Officials of the Rowing Club wore jackets in the club colours, which were Sir Ernest's colours when he was a judge.
David White, Chairman of The Deal Society, said "We are pleased to add this plaque to the many that the society has put up over the years because Sir Ernest showed his love of the town and its people by giving his money to many good causes. He was also concerned for the preservation of what is great about the town and became the first President of The Deal Protection Society."
More information on plaques and memorials in Deal and Walmer can be found on the Deal Heritage website at www.dealheritage.org.uk/plaques.