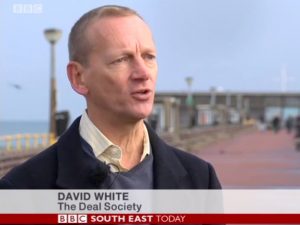 Dover District Council have approved a major programme of repairs to Deal pier.
The announcement made it to the BBC local news.
In October the Cabinet of Dover District Council considered a report to make long awaited repairs to Deal pier. Unfortunately the proposal only included partial replacement of the seating, which is almost non-existent as most of it rotted away and has been removed.
The Deal Society, together with Deal Councillors Trevor Bond and Wayne Elliott, asked them to consider a full replacement of the seating which might work out more economical than bit-by-bit replacement. The Cabinet asked for a report on the costs of full replacement and at a November meeting agreed to go ahead with all of the works, which include:
Resurfacing the pier
Replacing all of the seating
Repairs to the concrete structure
Work on the water mains at the end of the pier
We are pleased that the council is committing over half a million pounds to rectify the decay that has taken place on the pier. Their press release is at www.dover.gov.uk/News/Press-Releases/2017/12m-Investment-As-Deal-Pier-Celebrates-Diamond-Anniversary.aspx.